PRINCIPIA: Innerworld
A downloadable game for Windows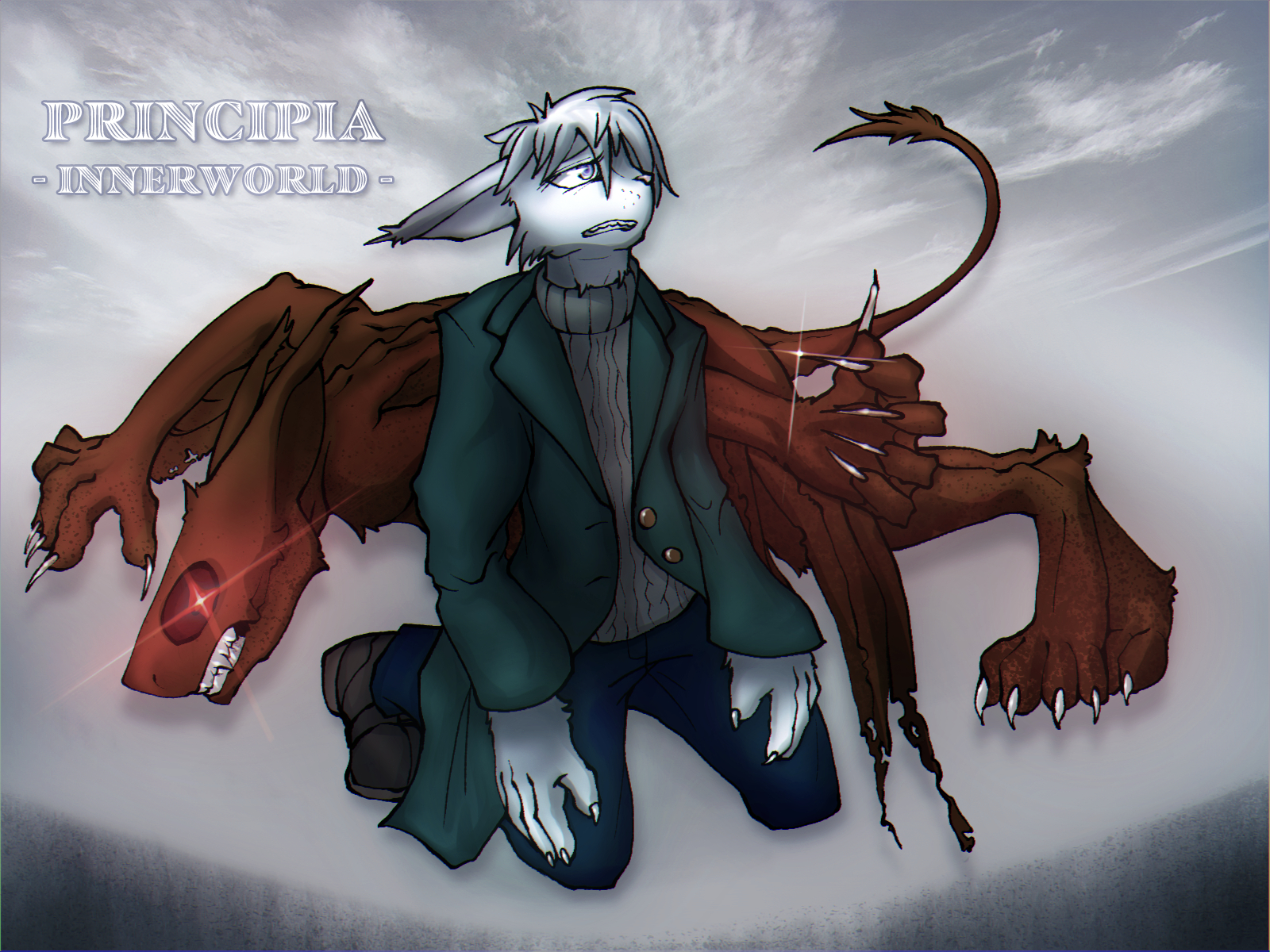 A.P 1968, the early morning of December 25...
On that day, I had a strange dream.
A dream that keeps sliding down a red tube...
What I saw there... It was a strange, inner world.
Synopsis of the game :

Nicolas could achieve new ties with Hal, and the Church. But eventually he quit working for his shipbuilding kombinat in November 1968, due to a workplace discord. Since then he has been completely enclosed and has not even spoken.
Meanwhile, in Nordburg a cult group named "Vorona" has begun thriving.
About a month later, Nicolas witnessed Vorona's members in a "dream". They said that Nicolas and his family had connected consciousnesses to their "realm" somehow. They were about to use Nicolas and the family for a biomedical experiment...
Can Nicolas defeat Vorona, and escape from their spiritual purgatory?
Features of the game :
Unlike the previous PRINCIPIA, the genre of this game has changed to Survival-horror RPG using ATB(Active Time Battle) system.
It requires speedy fighting and using proper items effective for each enemy. Don't forget to collect information to win and proceed with the story, too!
How to play :

1. First, unzip the ZIP file and open the folder.
2. Click "RPG_RT.exe" in the extracted folder, to start the game.
3. Use Arrow-keys to move Nicolas.
Z-key and X-key are correspond to Action button, and Open/Close menu screen.
Staffs:
Creator/Developer - Nymn Wales
Plot Advisor - Eucetonia
Monster Design Contributor - Fizzie
Test Players - Gatarino Gatus, Ziwz
Music - Felix Mullins ✞, Myuu, Amacha, DOVA
Comments
Log in with itch.io to leave a comment.
Wow, this game is REALLY good for what it has, keep it up!
Glad to hear that! Now I'm updating the game with different engine, so please be wait for that.
I really want to know the battle music that you fight the 1st guy of the game because that some really nice track that made for the final boss.
I used "Rain & Co II" for the first boss battle theme.

Rain & Co II is composed by DOVA-SYNDROME. You can get it free, and also it's CC0 license to use.

i havent played this game yet but from the previews it looks like an amazing game! i cant wait to give this a shot!
edit: so this is one of the best games i have played on here! i cant wait for the story to continue because this game is absolutely amazing! good job on making such a great game :)
Much appreciated! I've never thought Innerworld can be considered as such a nice game, so really glad that I could bring this game here.

Giving this series a go :P
Thank you for playing the game!
Innerworld will update several times and I will add more story and decency as a game. I hope you'd like it!

That ending hit me hard ;-; best game 2020
Thank you very much! I'm glad that could hear about the story as well!
Please looking forward to the next chapter too!

Hi there, I am a youtuber and I hope to get some support from you guys by leaving a like and subscribe at my channel.
This is a great game overall and is able to maintain the excitement factor and horror factor throughtout the game. I might not have finished the game but it is really an amazing game with just a few misspellings and grammatical errors. The storyline of the game is very interesting as well and is also one of the main factors that attracted me to play the game and give me the motivation to continue to try and complete the game. I did not complete the game because I think I have seen enough of the game and have gotten the gist of it to provide suggestions for improvement of the game. Moreover, I have no idea whether I am supposed to use so many healing items for each battle but if it is supposed to be that way, as long as there are sufficient items for the player to use to survive through all the battles, it is all good. If not, perhaps lower down the health of the monsters if the player is not supposed to use so much healing items in the beginning of the game I guess because most new players like myself will probably use a lot of healing items in the beginning of the game.
Thank you for reading my comment. :)
Thank you very much for playing PRINCIPIA! Glad to hear that you enjoy the game so much, and also appreciated your feedbacks upon the game play! It worth that I carefully made this game and added detailed features for this.

As for the amount of healing items, I recommend to use them 2-3 par a battle. This game is basically the difficult version of OFF by mortis ghost, so 1 encounter with enemies can be deadly if the players aren't careful enough (I'll adjust the difficulty later, since everyone says it's too difficult already 😅).

Also I recommend to use W.P grenade more often, so that you can win multiple enemies easily. Grenades and healings are the important factors to defeat them!👍
Thank you for the tips! Are there plans for a shop or something? It would be very helpful, as some players, like myself, burn through items rather quickly, and there's a finite amount in-game
That sounds good idea! Now I'm working on "Safe area" like Resident Evil's save room, and I'll add new systems like shopping, or cultivating items somehow. It's great that I can hear players' opinions this time.